Phyto Life Sciences introduces broad varieties of customized Tribulus Terrestris extract with Unique Features to meet consumer's specific requirements in Healthcare, Food & Cosmetic industries
Botanical Name : Tribulus Terrestris
Parts used: Fruit
Habitat and Botany :
This herb is a trailing plant common in sandy soil throughout India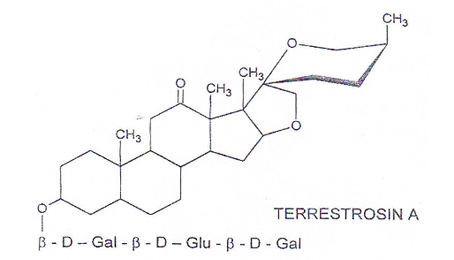 CHEMICAL COMPOSITION:
The fruit contains 5% of a semidrying oil, peroxidase, traces of glycoside resin, proteins and inorganic matter.. Steroidal saponins mainly furostanol glycosides have been isolated. Large quantities of potassium and nitrates are present too.
PHARMACOLOGY:
The effects of T. terrestris alcoholic extract have been studied; the alkaloids seem responsible for a slight increase in blood pressure, and increase in renal perfusion. The litholytic action of the fruit is attributed to the aspartic and glutamic acid content. The aphrodisiac and fertility potentiating action of the plant has been studied. The furoctanol biglycosides have been active in stimulating spermatogenesis and sertoli cell activity in rats. Oral application of the saponin terrestrioside-F in male rats increased libido and sexual responses. In female rats, this compound potentiated estrus and increased fertility.
THERAPEUTIC USES:
The plant has significant diuretic action. It is commonly prescribed in urolithiasis, crystalluria, aging and non specific impotence.
Action and Uses:
Cooling, Diuretic, Tonic, Aphrodisiac, used in painful Micturation, calculus affection urinary discharges and impotence increases the sperm count. The reproductive systems of both men and women receive beneficial results from Gokhru. It may be used in formulations for impotence, Venereal diseases, Sexual debility. Aphrodisiac action due to the presence of Saponinn in Gokhru. It boosts the hormones in the body. Hormones produced by the body or taken in via Phytosteriodes do not accumulate in tissue and are easily broken down by our bodies. Therefore the body is not going to incorporate/metabolize a large quantity of hormones at any stage. Gokhru stimulates increase in hormone production in the body and also stimulates its effect. Its health benefit of hormone supplement action from anti-aging to anti-oxidants is well known. One group of natural sources for hormones is the plant steroid (i.e. Plant that have been laboratory proven to contain steroid hormones). Gokhru is the plaint of choice. It has a 5,000 year-old history of medicinal use in India. There it has been used for boosting hormone production in men and women, Urinary tract problems, Itchy skin and blood purification.
Safty:
Do not take if dehydrated. No other significant information regarding safety is available.
Caution :
According to Ayurveda, Herbs are taken in combination with other herbs to neutralize the toxicity of one herb with the opposing effect of the other or to enhance the particular effect of one herb with the help of other
RAW MATERIAL
Collection of raw material in proper season from various regions of India. Authentication and Standardization of botanical species carried out respectively.
EXTRACTION PROCESS
Our organization adopted USP based methods for extraction to maintain quality, safety & efficacy of our product by following GMP. For enrichment of herbal extract we optimized & monitored critical process parameters to achieve desire end product which conserve its natural aroma and taste to satisfy consumers need. Product is processed & stored under strictly hygienic production environment.
UNIQUE FEATURES
Phyto Life Science is always taking consideration of consumer's requirement by providing them versatile products with below unique features:
Aqueous solubility
Enriched phytoconstituents
Prolong shelf life
Availability  of accelerated stability study data 
Long lasting natural aroma & taste
GRADES AVAILABLE
Powder, Liquid and Oil soluble version also available
APPLICATION
Applied in  Nutraceuticals to enhance health benefits
Applied in food and beverages
Applied in cosmetics, flavors & fragrance industry   
STORAGE
Store at cool and dry place
Important Note :-The information presented in this is for informational, reference and educational purposes only and should not be interpreted as a substitute for diagnosis and treatment by a health care professional. Although, the information presented about product is based on material provided by researchers and sources deemed reliable, we do not presume to give medical advice. The information presented here is the base on various Ayurveda & other book references and some market literatures and books and published papers. Anyone wishing to use this information should share it with his or her health care provider before embarking on any therapeutic program. It is your responsibility to discuss any alternative or natural remedy with your health care provider before use.