Phyto Life Science introduces broad varieties of customized Indian Ashwgandha extract with Unique Features to meet consumer's specific requirements in Healthcare, Food & Cosmetic industries
Chemical Composition / Key Active Constituents
All chemicals listed pertain to the root unless otherwise specified, as the root is the part used. Anaferine (alkaloid), anahygrine (alkaloid), beta-sitosterol, chlorogenic acid (in leaf only), cysteine (in fruit), cuscohygrine (alkaloid), iron, pseudotropine (alkaloid), scopoletin, somniferinine (alkaloid), somniferiene (alkaloid), tropanol (alkaloid), withaferin A (steroidal lactone), withanine (alkaloid), withananine (alkaloid) and withanolides A-Y(steroidal lactones).

The main constituents of Aswagandha are alkaloids and steroidal lactones. Among the various alkaloids, withanine is the main constituent. The other alkaloids are somniferine, somnine, somniferinine, withananine, pseudo-withanine, tropine, pseudo-tropine, 3-a-gloyloxytropane, choline, cuscohygrine, isopelletierine, anaferine and anahydrine. Two acyl steryl glucoside viz. sitoindoside VII and sitoindoside VIII have been isolated from root. The leaves contain steroidal lactones, which are commonly called withanolides. The withanolides have C28 steroidal nucleus with C9 side chain, having six membered lactone rings.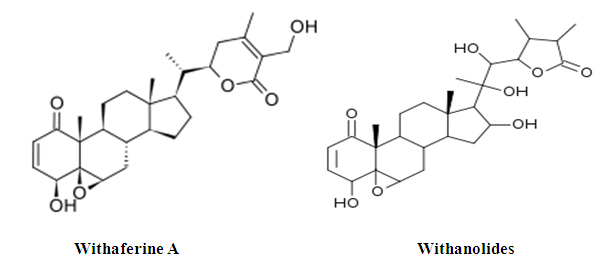 Pharmacology:
Centuries of Ayurvedic medical experience using
Withania somnifera
have revealed it to have pharmacological value as an adaptogen, antibiotic, aboritifacient, aphrosidiac, astringent, antiinflammatory, deobstruent, diuretic, narcotic, sedative, and tonic. Ashwagandha has been found to: Provide potent antioxidant protection. Stimulate the activation of immune system cells, such as lymphocytes and phagocytes. Counteract the effects of stress and generally promote wellness
Usage:
This herb is considered an adaptogen which is a nontoxic herb that works on a nonspecific basis to normalize physiological function, working on the HPA axis and the neuroendocrine system.
Ashwagandha is effective for insomnia but does not act as a sedative.its rejuvenative and nervine properties produce energy which in turn helps the body to settle and sleep. Thus it helps the body to address a stress related condition rather than masking it with sedatives. A herb that rejuvenates the nervous system, erases insomnia and eases stress.
Ashwagandha has also been shown to lower blood pressure and is highly effective in stopping the formation of stress induced ulcers.
In arthritis, which involves joints that are painful, dry, swollen and inflamed, Ashwagandha would be the herb of choice.
One of the special properties of Ashwagandha is that it will enhance ojas. Ojas is the most subtle, refined level of the physical body and is the end result of healthy food which is properly digested. It is responsible for a healthy immune system, physical strength, and lustrous complexion, clarity of mind and sense of well being. It allows consciousness to flow within the body. With decreased ojas, we are less in touch with ourselves and more prone to diseases and having a feeling of disharmony. 'Ojakshaya' (decreased ojas) is a condition similar to AIDS/HIV
Research on Ashwagandha has concluded that extracts of the plant has a direct spermatogenic influence on the seminiferous tubules of immature rats presumably by exerting a testosterone-like effect.
Ashwagandha increases hemoglobin (red blood count) and hair melanin.It stabilizes blood sugar and lowers cholesterol.
RAW MATERIAL
Collection of raw material in proper season from various regions of India. Authentication and Standardization of botanical species carried out respectively.
EXTRACTION PROCESS
Our organization adopted USP based methods for extraction to maintain quality, safety & efficacy of our product by following GMP. For enrichment of herbal extract we optimized & monitored critical process parameters to achieve desire end product which conserve its natural aroma and taste to satisfy consumers need. Product is processed & stored under strictly hygienic production environment.
UNIQUE FEATURES
Phyto Life Science is always taking consideration of consumer's requirement by providing them versatile products with below unique features:
Aqueous solubility
Enriched phytoconstituents
Prolong shelf life
Availability  of accelerated stability study data 
Long lasting natural aroma & taste
GRADES AVAILABLE
Powder, Liquid and Oil soluble version also available
APPLICATION
Applied in  Nutraceuticals to enhance health benefits
Applied in food and beverages
Applied in cosmetics, flavors & fragrance industry   
STORAGE
Store at cool and dry place
Important Note :-The information presented in this is for informational, reference and educational purposes only and should not be interpreted as a substitute for diagnosis and treatment by a health care professional. Although, the information presented about product is based on material provided by researchers and sources deemed reliable, we do not presume to give medical advice. The information presented here is the base on various Ayurveda & other book references and some market literatures and books and published papers. Anyone wishing to use this information should share it with his or her health care provider before embarking on any therapeutic program. It is your responsibility to discuss any alternative or natural remedy with your health care provider before use.